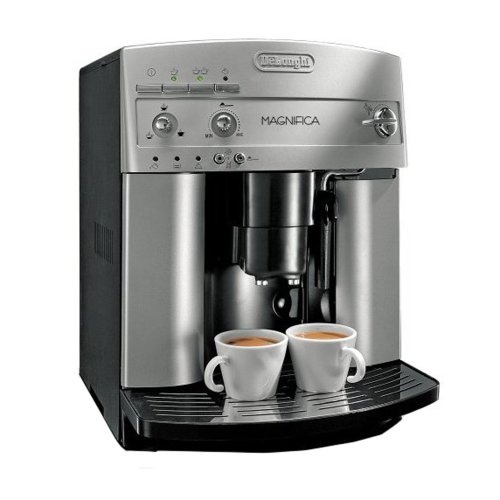 There are multiple machines that you can use to make espresso. Each type of machine offers a different experience. One of the most complex types are super-automatic espresso machines. If you want to enjoy that perfect espresso with just the push of a button, you will love super-automatics. In this review were going to take a look at the DeLonghi ESAM3300 Magnifica Super-Automatic Espresso/Coffee Machine to find out if it's a good option for you.
Benefits of the DeLonghi ESAM3300 Magnifica

One of the main reasons for buying a super-automatic espresso machine is the ease of obtaining espresso, with more or less than the push of a button. Because the entire process from bean to the steaming cup is automated, there are many parts that need to work well. There are also other aspects of these machines that are equally important, such as size, because most people don't have a lot of counter space. The DeLonghi ESAM3300 Magnifica ranks well in multiple aspects. Let's see what the main benefits are:
1. High Performance and Compact
Although it has a compact size (which is a plus with most coffee drinkers) it's loaded with features that will keep the flow of high quality espressos uninterrupted. Because of the way it's built, the heat distribution is great, ensuring the perfect temperature to brew espresso.
2. Multiple Coffee Drinks
This machine is capable of preparing multiple hot drinks: espresso, coffee, cappuccino, latte drinks and more. The patented "Cappuccino System" frother mixes steam and milk to create a rich foam. It rotates 180 degrees, so you can use different sized milk containers.
3. Removable Water Tank and Bean Container
This is another big plus of the ESAM3300. Because it's pretty difficult to replenish the water tank, and empty the coffee grounds with most super-automatic, DeLonghi has designed the water tank and bean container to be removable, so you use them without having to move the machine.
4. Double Boiler
Another important advantage of this espresso machine is the stainless steel double boiler. Thanks to this feature you can make espresso and cappuccino at the same time. You will also be able to clean it without experiencing any difficulties because it's made of stainless steel. It's recommended you descale the boiler once every 2-3 months, to completely remove all the mineral deposits. You can read about the right way to do it in the instruction manual that comes with the machine.

Feedback, Ratings and Reviews of Customers

The DeLonghi ESAM3300 has been reviewed by 441 customers, and has received an average rating of 4 out of 5. The average is made up of 262 ratings of 5 stars, 79 ratings of 4 stars, 17 ratings of 3 stars, 26 ratings of 2 stars and 59 ratings of 1 star. Let's see what customers thought about this espresso machine:
Makes great espresso every time. Most customers are very happy with the quality of the espresso made by this machine. Furthermore, some reviewers, who've updated their reviews over a period of years, said that the Magnifica was able to consistently offer the same level of quality even under heavy, daily use.

Easy to adjust cup size and strength of coffee. Because they fitted it with a very user-friendly control panel featuring knobs and buttons, adjusting your cup size and coffee strength is pretty easy. The control panel doesn't have an automatic timer, but considering how fast it warms up, this shouldn't be an issue.
Easy to clean. Cleaning the machine is fairly easy. Because most parts that need regular cleaning, like the brew mechanism, can be taken out without hassle, you will not have to move the entire machine, saving you tons of effort. Keeping your espresso machine clean has a big impact on the quality of espresso. You can find more information on this subject by reading our guide on cleaning espresso machines.
Cons

Although many owners were very pleased with the choice they made, like with most products there are some weaknesses that you need to know about in order to be capable of making the best decision. After all, an espresso machine is an investment for years to come.
Probably most mentioned weakness is the fact that once you push the button, to get the espresso made, the noise will probably be a bit too loud to be able to talk with someone near the machine. On the other hand, the entire process from bean to brew will not last for a long time, so, it's a weakness that some owners will not consider a deciding factor.
Conclusion

Overall, the DeLonghi ESAM3300 Magnifica Super-Automatic Espresso/Coffee Machine is a great choice for anyone looking for a machine that delivers high quality espresso on a consistent basis. Connoisseurs could frown upon the imperfections of this machine, but most people will find it a very good investment.
Read my De'Longhi ESAM3300 vs Breville BES870XL comparison review to see how this espresso machine compares to a similarly priced semi-automatic espresso machine.