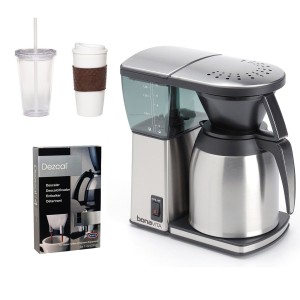 The Bonavita BV1800 focuses on the finer details of brewing coffee. The temperature of the water coming out of the sprout is between 195 F and 200 F. This is the optimal temperature to extract all the flavors and the active ingredients from coffee. The water is dispensed at different points into the filter. You can tell this because the coffee grounds will be gathered at the bottom of the filter rather than thinly dispersed all over it. The coffee brews in about 7 minutes, and will stay hot for a long period of time because of the thermal carafe. This way you can enjoy a hot cup of coffee over many hours. With this black friday coffee makers deal you get a $30 discount on the coffee maker and free gifts that complete the package.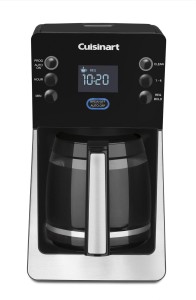 The Cuisinart Perfec Temp 14-Cup Programmable Coffeemaker is a great product in many different ways. It brews one of the best coffees. Like the Bonavita above, it brews the coffee at a high temperature, which ultimately leads to a fuller taste, even if you only want 4 cups and don't need 14 cups. It's not the speed champion but it will get your coffee ready at an acceptable rate. Besides all this, there's the obvious aspect, it will look great on your counter top. This black friday, the Cuisinart Perfec Temp is a must have.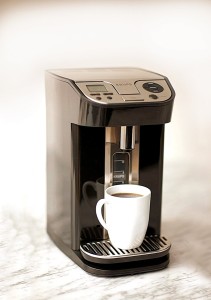 The KRUPS KM9008 is the perfect coffee maker for you if you want the option to make smaller amounts of coffee but maintain a superior level of quality. The coffee that this machine delivers has a nice full taste without any scent of bitterness, grounds, cooked coffee taste or other unwanted aromas. It holds up to 60 oz. of water and is extremely easy to fill. If you want, you can set it to keep your coffee hot for up to 4 hours. In addition to this, another interesting feature of this coffee maker is that you can set your smallest sized coffee and your largest sized coffee, and it will keep the exact same amounts every time you push the buttons you initially set for each amount. The KRUPS KM9008 offers a lot of value for money. It's a beautiful addition to any kitchen and at this price, a true bargain.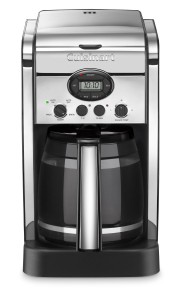 The Cuisinart DCC-2600 is a great upgrade from its older cousin the DCC-1200. It makes great tasting coffee, like the older model but it has better design and usability. They included a gold filter, which is a good addition and should be a standard feature from now on. You can now check the water level from the outside, so you don't have to strain and look over the top. That's a clever enhancement made by Cuisinart. The time required to brew your coffee is of about a minute per cup. It's not outstandingly fast, but the few minutes wait is completely worth it. If you hate waiting at all, then you can set your coffee maker to get your coffee ready at the time you wish next morning. In case you like to enjoy your coffee until noon, the DCC-2600 is able to keep your coffee hot for up to 4 hours.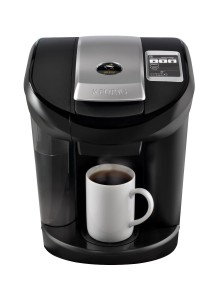 The strongest aspect of the Keurig Vue V600 is its versatility. You can brew a great espresso, breakfast coffee, iced coffee or hot water for tea and hot chocolate. The water will be perfect for tea in no time, it's more practical even than some counter top kettles. The V600 has many features and is more than a coffee maker, it's a complete beverage machine in a well designed package. This coffee maker is a perfect match for a household with different tastes, as it will surely keep everyone happy.